You should  by now that Nigeria is the eye of the African continent when it comes to land richly blessed by Mineral and natural resources. Being the most populated country and  vast land mass cover  —- square kilometers .Nigeria has become an untapped tourist paradise with long stretches of exotic beaches, lush mountains, well preserved tradition and culture and enchanting tourist attractions.
From the spiritual shines to the ancient cities of the north, from the river deltas to the Yoruba kingdoms, the Ibo's stunning environments and among many simply pure sceneries; Nigeria leaves every visitor breathing hard with suspense and excitement. With this said,  I bring to  you the 10 Greatly Must Visit Tourist Attraction In Nigeria.
1) Yankari National Park
Yankari Game Reserve is a large wildlife park. It is located in the south-central part of Bauchi State, in Northeastern Nigeria. It covers an area of about 2,244 square kilometers (866 sq. mi) and is home to several natural warm water springs, as well as a wide variety of plants and animals species. Its location in the heartland of the West African savanna presents it as  a unique way for tourists and holidaymakers to watch wildlife in its natural habitat.
When moving around the game reserve, it is spectacular scene to  see different types of animals roaming freely in the wild. The Yankari is a home of Eco-Tourism. Amazing is the word to  describe this natural haven. The travel  is worth it and  the apartment are great with  comfort architectural design of the Deluxe type of accommodation which is reflective of the traditional Northern Nigerian cone shaped structure. There are  diverse  animals like the lions, and Lionesses, different bird species, crocodile, snakes, Gorillas, Elephants, giraffes, Baboons Monkeys and many more.
The experience here  is  the type that brings you closer to nature more and makes you appreciate the essence of human life itself. Watching those  animals on TV animal documentaries like NATGEO is far short from the real time personal experience of live view of seeing them life as they are in Zoo Gardens.
They also have other services which make tourism a complete experience. Amongst them lists are;
Restaurant: The Restaurant is the secret to their flexible catering programs. The Restaurant is located within the game reserve and they serve superior food choices  both of  continental and African dishes at affordable price rates.
Safari Game View: The Safari Game View is the section  where you get to  see wild animals in  the reserve. The game viewing vehicles and guide are ever ready to   take you round the reserve.
Wiki Warm Spring: This is a natural spring with crystal clear water and  at a temperature of 30 Degrees Celsius year in and year out.
Yankari Bar: The  Bar is a 'State of the Art' Bar for tourists special drinks at an affordable rate
It is a lovely place to enjoy nature . In summary, its a cool place for fun and relaxation, the free air an sunny atmosphere with drinks and music will help funtime more easily.  You can come with your board to add to your fun.
Yankari Game Reserve  is one of the best reserves in  Nigeria where you can go  with your family and friends to  see different types of  animals like lions, Elephants, Crocodiles, Gorillas etc and refresh, reawaken and reinvigorate your soul. You give this venture a try and you would always relive the memories of having been there
2) Farin Ruwa Falls
The Farin Ruwa Fall is is a magnificent waterfall and a sight to behold amongst every falls one may have come across in Africa. The Farin Ruwa fall is located 30 KM from Wamba and 120 km from lafia,  in Nasarawa State  capital and it derives its water  from its source in Jos plateau. as .
The Farin Ruwa Falls was first discovered by the British Colonial Masters in the 1950s .       The Farin Ruwa Waterfall originates from an amazing height of over 150 meters and delivers  its water volume of about 50 cubic meters. Plunging down the  base of the fall is the whitish appearance of the water where it derives its name 'Farin Ruwa",- in Hausa Language  meaning meaning white Water. It is among the highest waterfalls in Nigeria. It is significant among Africa's falls.
It is an adventure like no other when you visit this amazing sight of nature.  Also there are fun filled activities you can engage in from  horse riding to the bike ride.
When going to see this amazing art of nature, be sure of  being thrown into a series of suspense like crossing 3 streams and the hike before the waterfall reveals itself . Totally amazing. You will have a better experience during the dry season and. Things to note not to forget carrying along when visiting the Ruwa Farin is  water and food as  you are  about to embark on a hiking that is not for the faint hearted . It takes about 2 hours from Keffi to  Akwanga and the Wamba in  Nasarawa. You would need to go to the waterfall with a car. You will take bike or one hour  to waterfall from the Farin Ruwa junction to the waterfall. The road leading to the waterfall is covered by bushes and you will need to be covered up if you are allergic to the grasses touching your skin
3) Ikogosi Warm Spring
Some visitors to this  tourist center have described the spring as Nature's miracle in Yorubaland. It is a tour for nature and history lover. The environment is an awesome benevolence. .The springs are hidden away in the lush forest of Ikogosi-Ekiti, in Ekiti State and there's something quite mysterious and magical about the springs. Ikogosi is a warm and cold water resort in Ekiti State. Warm and Cold water gush out from the same source.
There have been several tales about the emergence of the spring, however, the most striking of such historical tales have it that the warm and cold water were the wives of a man, who after a long period of contest turned into springs through magical means. ..This spring  is largely believed to  be discovered by a Baptist Missionary in 1950( External links: wikipaedia} The warm water has a temperature of 70o c and maintains a temperature of 37o c after meeting the cold spring of water at the confluence.  Steam rises from the warm spring of water and the cold water is freezing! Of course,  The scientific explanation for this geological wonder of why you have the cold and warm springs converging and yet maintaining their unique thermal properties side by side do exist, though, not as important for this article as its physical properties.  it sounds more interesting. Whilst this is not a waterfall per se, it is no less idyllic and exciting to see in real life.  Seeing and feeling the hot water and then cold water together is a pretty mind-blowing experience.  that's a natural wonder right there. Amazing! ( External Link: bidsingraceland.com..
it  is a good place to visit for singles and families and friends.( INernal link:  10 Awesome  reasons why you should travel with fiends) 
Designed for both business and leisure travel, IKOGOSI WARM SPRINGS RESORT LTD is ideally situated in Ekiti; one of the city's most popular locales. The hotel is not too far from the city center: just 10KM away, and it normally takes about 45 minutes to reach the airport. With its convenient location, the hotel offers easy access to the city's must-see destinations.
At IKOGOSI WARM SPRINGS RESORT LTD, every effort is made to make guests feel comfortable. To do so, the hotel provides the best in services and amenities. The hotel offers access to a vast array of services, including 24-hour room service, free Wi-Fi in all rooms, 24-hour security, convenience store, daily housekeeping.
IKOGOSI WARM SPRINGS RESORT LTD is home to 120 bedrooms. All are tastefully furnished and many even provide such comforts as television LCD/plasma screen, additional bathroom, additional toilet, carpeting, cleaning products. The hotel offers wonderful recreational facilities such as theme park, water park, private beach, fitness center, indoor pool to make your stay truly unforgettable. Whatever your purpose of visit, IKOGOSI WARM SPRINGS RESORT LTD is an excellent choice for your stay in Ekiti.
The resort when  arrived in looks elegantly  adorned one can tell that a lot of effort has been put into the place. The place is  budget friendly and there is wait  and get photography, As such, I would definitely recommend a trip to Ikogosi warm springs – it's an absolute must to see
4)Obudu Mountain Resort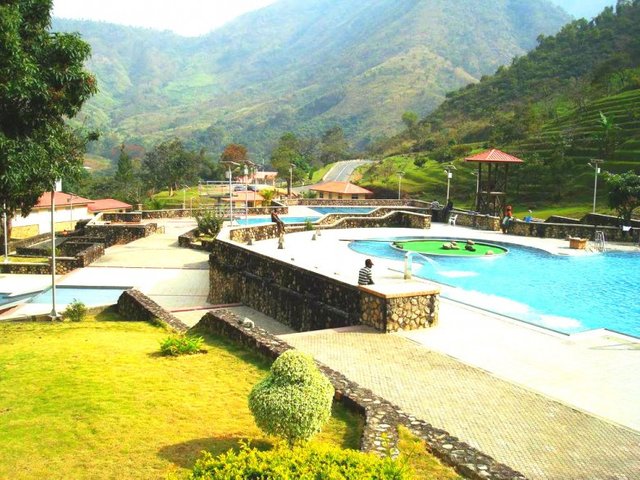 The Obudu Cattle Ranch is situated Above the sea level on the Oshie Ridge of the famous Sankwala Mountains sits majestically the Obudu Mountain Resort. The temperate climate, breathtaking views, idyllic tranquility and beautiful scenery has made this resort one of the famous tourists' sites in Nigeria.
The history of  Obudu Mountain Resort, formerly known as Obudu Cattle Ranch,  dates back  to 1949 when  a scottish man known as M. McCaughley  first  explored the mountain ranges, as he camped on the mountaintop for a month before returning with Mr Hugh Jones, a fellow rancher, in 1951 after which his  legacy was continued till this day.  It is one of the most beautiful and pleasant tourist centers in Nigeria. This rach is situated on the Obudu Plateau with in an  altitude which gives you a grand view of the whole environment with fresh mountain air to your nostrils. Obudu Mountain Resort is close to Cameroon border in the Northeastern part of Cross Rivers State. This resort center has grown to become a major destination choice for tourists. It has an attractive landscape and calming ambience, with clouds smiling down on its peaks and valleys. It offers visitors a good mix of warm and cold temperature, thereby reflecting a very temperate weather.
Travel Advice to Obudu Mountain Reserve
The easiest access to Obudu Mountain Resort is by a direct flight from Lagos and Abuja to Calabar, from where you can get a Bus to the Resort. When you arrive in Calabar, take a bus that is going straight to Obudu, in order to save you some time, as other buses may have several stops on the way. . The distance between Obudu and the ranch is about 1 hour and there are different travel options  so for this reason, it is advisable to look for that which is cost effective and economical by making enquiries from the locals based in Calabar. Driving from Calabar to the mountain resort could take up to 6 hours, which gives you an ample time to enjoy the sight of the vegetation and the scenery on your way.
Although the resort is open all year round,however, the best time to visit the resort is during the festive periods. this is because  the weather during this period is also favourable, as the festive period falls within the dry season in Cross Rivers, where Obudu Mountain Resort is located. It is also best to visit during the period between October and February during which the dry weather makes  weather  makes trekking over the high ground enjoyable.
There are a tone of fun activities awaiting you as you get to the mountain resort. They are as follows:
rooms in Obudu Mountain Resort are made up of chalets, standard room, executive room, huts to presidential suites. Although this resort is open to visitors throughout the year, the period between October and February is the best time to visit, as it is largely claimed that the flowers blossom in fullness during this period.
Get on the Cable Car
When at the  Obudu Mountain Resort,  you can either drive from the bottom of the hill or take the cable car to get to the top of the resort center. The hilltop whih is about 11 km of winding road from the base would last you about 25 minutes while using the cable car takes about 6 minutes. This Cable Car transport is the pièce de résistance at Obudu Mountain Resort is said to be the longest cable car in the African continent. Tourists who visit this resort are always eager to get on this cable car and enjoy the fun of riding to the top of the resort in this car, because it affords them the opportunnity  of viewing the scenery and panorama of the whole envirnoment from the top above and an exciting vistas of green rolling hills.

Play Outdoor Games
There are loads of fun outdoor activities to get involved in. You can engage in activities like swimming, horse-riding, golfing and hiking. This resort has two large river-sized swimming pools, where you can enjoy time in the water and also relax in the outdoor pool bed. When hiking, it is recommended that you go with firm boots and be psychologically prepared for the climbing expedition. With its 9-hole golf course, you are allowed to play a game of golf. The lush vegetation around the golfing area is an amazing sight to behold.
Join the Obudu Mountain Race
Obudu has a race competition it holds every year, where it offers an attractive cash price. It is usually held in November. Against this backdrop, in the event that you visit Obudu in the month of November, make it a date at the Obudu Mountain Race.
Go Sightseeing
For lovers of nature, go on a sightseeing adventure at the Obudu Mountain Resort. The Resort houses about 250 varying species of birds. You will have an astonishing time watching the birds with your binocular.
Amongst other activities in enumeration are working out at the gym (fitness center), get on the caopy walk and of course taking our meal at their exective restaurants
Have A Meal at the Restaurant
There are about four eateries in this place which cater to the diet needs of tourists. Restaurants like Terrace Restaurant and Bar would sure treat you to their delicately prepared local and international dishes. Tourists can either decide to eat at the indoor restaurant or eat at the outdoor restaurant, from where they can have a beautiful view of the mountains
A visit tothe Obudu Mountain resort won't cost you much and their lounging are also cost friendly with a good reception
Bear in mind that these room rates are per night and might come with a complimentary breakfast, free WIFI, and access to some other standard facilites. Find below the cost of a room at the Obudu Cattle Ranch.
On your arrival to the ranch, you will be welcomed in the heavily decorated reception (with a massive Cow head hanging on the wall) where you can confirm your room and get other check in information you need.
Obudu Mountain Resort attracts lots of local and international visitors/tourists yearly, especially during the Christmas period or Obudu Ranch International Mountain Race known as "the world's richest mountain race", an annual 11.25 km mountain running competition that takes place in late November.
Largely dense by trees and mountains, the roads are beautifully structured in snake line fashion to allow access to all parts of the Mountain.
Landmarks are strategically put in place to allow tourist identify their location and move more quickly around the mountain.
5)Ogba UkWu Cave
From the sacred Osun-Osogbo groove to the ancient Nok culture and the Hausa-Fulani cultural heritage amongst others, there is no denial of the fact that Nigeria is very rich in culture and tourism. However, given the numerous tourist sites in the country, there are still several unknown sites that tourists and even citizens know little about despite existing for many years. One of such is the Ogba-Ukwu Caves and Waterfalls which presents one of the greatest natural tourist attractions in Anambra State.
Approximately 75 kilometres east of Onitsha, the Ogba Ukwu Caves and Waterfalls are located in Owerre-Ezukala community that borders Abia, Enugu and Imo. It is considered the largest cave in West Africa and can take up to two hours to explore. The cave forms a deep and complex rock formation with roomy compartments large enough to take in an entire village.
Within the confines of the cave is a large area believed to be the living room of the 'god' of Owerre-Ezukala. This cave, like its counterparts, has many entry and exit points but one, in particular, is famous for the wide range of distance it covers. There is also one particular compartment, accessed by the aid of stone steps where an old elephant's foot still stan
The Ogba-Ukwu Caves and Waterfalls is a sight worth seeing that will undoubtedly leave every tourist dumbfounded over this wonderful work of nature.(https://folio.ng/nigerias-hidden-gems-ogba-ukwu-caves-and-waterfalls/)
The Ogba Ukwu Cave is considered the largest cave in West Africa with various compartments that would take an entire village.  This cave like its counter parts has a number of entry and exit points but one in particular is quite famous because of the wide range of distance it covers, it is considered an escape route as a 2km journey through that exit would take one all the way to Oji River in Enugu State(http://www.travelonigeria.com/sightseeing/ogba-ukwu-cave-tour/#.X5c1cKpKhPb)
After taking a long break from my journey to visit 25 Nigerian states before I turn 25, a couple of adventurous friends and I made it to Anambra state. I have longed look forward to this trip as I always wanted to visit a Cave for the longest time and you can imagine my excitement when I found out my friends and I would be visiting two caves during our time in Anambra.
I did a 7 hour road trip from Lagos to Onitsha which was quite exhausting due to the numerous checkpoints which were unnecessary. Upon arrival in Onitsha, we made our way to our hotel after which we had amazing dinner and slept off. The next morning, we were set to explore the first cave on our itinerary which is Ogba Ukwu Cave and waterfall
The drive from Onitsha to Ogba Ukwu Cave lasted 2 hours and it was not very easy to locate it. Emy, one of my travel buddies downloaded the Lead Rider app which is like Uber and Taxify and it was the ride that took us to Ogba Ukwu Cave and later on to Ogbunike Cave.  Google maps directed us to a point after which we had to ask the locals around for direction. For such a location, necessary signposts would help in locating this beautiful place. On arrival, there was no sight of any tour guides and we made our way into the Cave hoping that we would find someone to guide us but we only found two people who were leaving.
Ogbaukuwu Cave is believed to be the largest cave in West Africa and one of the greatest natural attractions in Anambra state. I am usually amazed by the sight of a waterfall as there is always a hidden message in a Waterfall.Anambra state is home to two Caves, know them? Find out about them here!CLICK TO TWEETWhile we were playing by the waterfall, an elderly man who happens to be a local and  know about the Cave came in and was been a guide for someone. We joined in and he was able to give us a tour into the Cave. We were shown a parlor, dinning area and a few other places inside the cave ( I do not have pictures inside as it was too dark and the pictures with my flash were not great) . We were also shown a path which we were informed leads to Enugu. I would have loved to know more about this place but sadly I could not get so much information.
After taking some m
After taking some more pictures and enjoying the waterfall, we started our journey back to Onitsha. We did a quick stop to get Abacha which is by far the best Abacha I have had ( What is going to a new place, without trying local meals. Abacha is made from Cassava ). We got back to our hotel and took an evening walk to a nearby market and got a few fruits to eat and retired to bed.
The next morning, we were set to visit Ogbunike Cave also in Anambra which is a bit more popular than Ogba Ukwu Cave and Waterfall. We were asked to pay a thousand naira each by the guide there and we proceeded to explore the Cave. Before entering the Cave, the guide instructed us to takeoff our shoes and fold our trousers before entering into the cave.
It was not easy walking inside the Cave, as we had to bend a lot and there are over two thousands harmless bats or more inside; I had never seen such amount of Bats in my life like I did there. We were also informed that some prophets/pastors come to camp in the Cave for even up to 40 days. The physical experience of visiting this place cannot be comprehended in this post  and it is worth a visit if you are up for it.  We got out of the cave and went to the Ogba river which has its sources from Nkissa ( a nearby village) and the Cave. Just like Ikogosi Warm Spring in Ekiti state, The water that flows from the Cave is warm while that from Nkisssa is cold. It was lovely to dip my feets in both simultaneously
We returned back to Ontisha and traveled to Abia state which I would be sharing about in my next post.
Here are my final thoughts if you decide to visit any of the Caves in Anambra:
Do not visit either of them alone preferably go with someone or a group of people and if someone amongst you understand Igbo it is a plus.
If you are visiting Ogbunike Cave, try to wear a dark colored trousers and one that can easily be folded. Also women who are on their monthly period are not to go into the Cave.
Go with a change of clothes if you decide to get a dip in the Waterfall at Ogba Ukwu Cave and waterfall.
Hire a cab if you can to take you to these places as it is so much easier.
Go! Go!! Go!!!
Have you been to Anambra state before and to any of the places I visited? What was your experience like? If you have not visited these places, would you like to visit them? I would love to hear from you in the comments section.(https://diusorodiakosa.com/2019/06/06/chasing-caves-in-anambra/)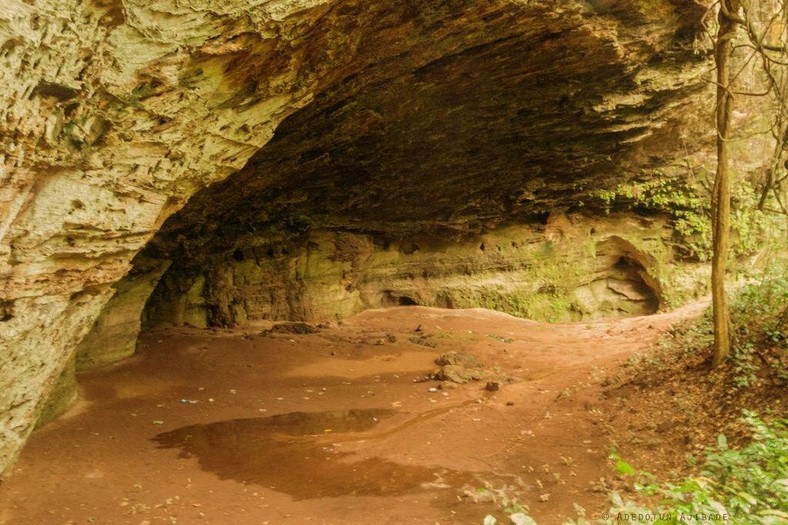 6)sultan beach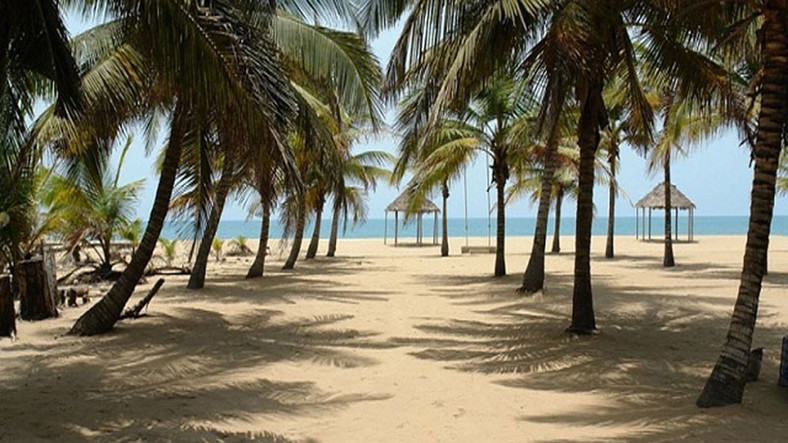 7) Olumo Rock
 Abeokuta
Nestled inland, directly north of sprawling Lagos, the regional capital of the Ogun State can be found surrounded by great swathes of yam fields and maize farms, swaying wooded savanna and palm oil plantations.
An historic location on the important trade routes between the coast and the heart of West Africa led to previous inhabitants raising adobe fortifications around the old town, many of which can still be seen today.
However, it's the bulbous rises of the Olumo Rock that soars atop the town that really draws the eye.
This ancient natural fort plays host to a great cultural museum, a craft shop selling local artworks, and caves that showcase the human history of the Ogun regi
8) Lekki Conservaton Center (Art Gallery leKKi)
9)Location: Ibeno, Akwa Ibom State
Another great gateway to the trans-border Cross River National Park, and a brilliant stopover on the way to Calabar city, the town of Uyo is a clean and efficient urban center with a pretty lively nightlife scene of music bars and beer haunts.
It's surrounded by green swathes of mangrove forest, out of which pokes the city's famous golf resort (run by the prestigious name of Le Méridien no less). In the town there's also the endless boutiques and fashion stores of the Ibom Plaza, where Nigerian celebs often strut their stuff.
And if the city gets too much, make a beeline for the coast.
Ibeno Beach is the top choice, with its footprint-spotted sands coming in as some of the longest in all of West Africa.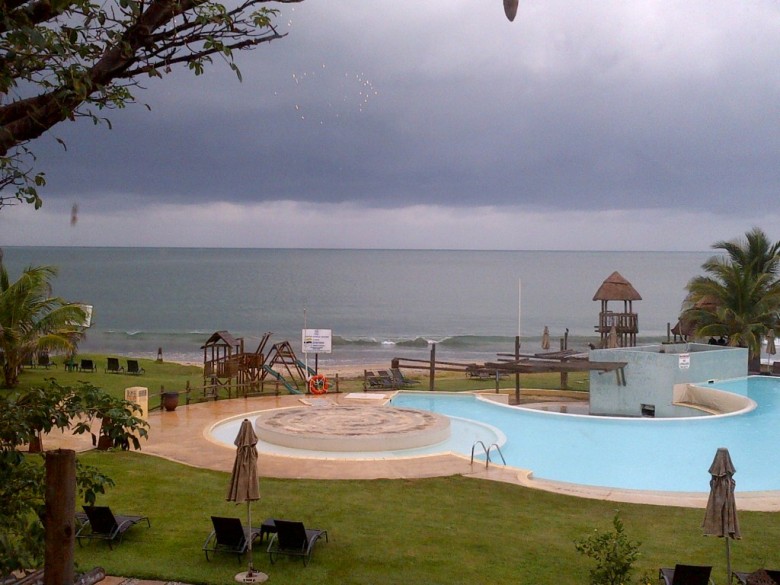 Ibeno beach with a mind-blowing stretch of over 45km sand bank which transverses many riverine communities, is a beautiful tourist site for lovers of fun and tourists to unwind.Situated in Eket, Akwa-Ibom State; Ibeno beach with its alluring beauty and splashing waves welcome visitors throughout the year.The smell of the beach sand is crisp and from a distance, visitors can hear the sea gulls and the splashing waves. Nature makes it so.

At anytime of the day, the verdure around the beach, entertains the tourists and lovers with exotic sites, just as the friendly host community ascertains tourists of their safety during their stay.

Due to its serenity and security, the beach is rated high amongst the top soothing and clean beaches in the country. The beauty of this beach is that the sands of the beach itself have been stable over the years without receding with the tide of the water.

The beach resort is a sight to behold with white sand dunes that is unaffected by the waves of the Atlantic Ocean. It is both gentle and turbulent depending on the season of the year. At low tide, the waters can recede as far as 100 metres from the beach and can reach unimaginable elevation of 30 metres above sea level before it strikes the beach.

The beach, which can be accessed by air through Uyo, the Akwa-Ibom State capital and Calabar with Arik Air and Aero Contractors which operate daily flights to Uyo from Lagos and Abuja, offers a natural swimming pool, little heaven, memorable sunbathing, water sport and leisure activities.

But, a lover of water sport will always find the beach, which stretches to the James Town on the Atlantic, most inviting and engaging.
Ibeno Beach is renowned as the longest sand beach in West Africa. It extends across 30 kilometres along the Atlantic Ocean from the beach all the way down to Jamestown in Akwa Ibom. The beach is located in Akwa Ibom southeastern Nigeria and it inherited its name from Ibeno local government area. Ibeno is a major boost for tourism in Nigeria, especially in the oil rich southeastern part of the country. Estimated to be first occupied around 1200 – 1500 BC by the Ibeno tribe, the white sand beach is one of the oldest beaches in Nigeria and West Africa at large.
Ibeno beach in Akwa Ibom features one of the most most natural beaches in Nigeria with a beautiful coastline and a boundless bank of lush white sand along the coastline of the beach and extends the beauty of Ibeno beyond our human sight. This natural scenery of visual spectacle blends perfectly with the sound of splashing waves and screams of seagulls under casts made out of the shadows  of fascinating trees bedded along the beach. For those that intend to spend a night in or around Ibeno, get affordable hotels around Ibeno.
Ibeno provides endless natural facilities for tourist such as beach volleyball, water sporting, beach soccer, general boating, sunbathing or taking strolls along the beach coast. The beach provides an ample view of the Gulf of Guinea over which the scattered gas flares from ExxonMobil offshore oil platforms create an image of flaming tongues of fire on the sea.
The beach is often patronised by visitors from southeastern, south south and north central part of Nigeria who desire to take time off their schedules and relax at Ibeno beach. In 2013, the Federal Government of Nigeria constructed and opened the Ibeno bridge as a move to attract tourist and improve other economic activities in the region.
Nigeria enjoys vast coastal plains in its southwest, southsouth and southeast regions. Naturally, such areas constitute beaches, which makes for relaxation spots and tourist attraction sites to be enjoyed by visitors. Nigeria's beaches largely cover six of its states which ranks it has one of the world's tourism destination. I've rounded up some of the country's most beautiful ones you can hope to visit .
Calabar Beach, Calabar, Cross Rivers state
La Campagne Tropicana, Lekki Lagos
Kamp Ikare, Lagos
Eko Tourist Beach Resort, Ibeju-Lekki, Lagos
Ifoko Beach, Rivers state
Patigi Beach, Niger River Area
Ndibe Sand Beach, Ebonyi State
Ibeno Beach, Akwa Ibom State.
Whispering Palm Beach Resort, Lagos
Coconut Beach Badagry
Let's talk a bit about the most recent one I visited, which is the Ibeno beach.
Ibeno beach with a mind-blowing stretch of over 40 kilometres sand bank transverses many riverine communities, along the Atlantic coastline of Akwa Ibom state. A beautiful tourist site for lovers of fun to unwind. The beach is rated high amongst the top soothing and clean beaches in the country. Situated in Ibeno local government area of Akwa Ibom state; Ibeno beach with its alluring beauty and splashing waves welcome visitors throughout the year.
It is believed that the area was first occupied around 1200–1500 BC by Ibeno indigenes and also it was the landing site of the qua Ibo Christian missions from Scotland which was one of the most successful Christian missions in Nigeria in the early 20th century, leading to the conversion of many nigerians to the Christian faith.
It is said to be the longest beach and one of the oldest in West Africa. It is both gentle and turbulent depending on the season of the year. At low tide, the waters can recede as far as 100 metres from the beach and can reach unimaginable elevation of 30 metres above sea level before it strikes the beach.
The smell of the beach sand is crisp and extends as far as the eyes can see unaltered by the waves, visitors can hear the sea gulls and the splashing waves. Nature makes it so. The alluring array of trees lined along the beach provides good shelter from the burning rays of the sun for visitors looking for shade after sunbathing or taking strolls about the place. The beach provides an ample view of the Gulf of Guinea.
Features and facilities
With its beautiful coastline, Ibeno provides endless natural facilities for tourist, such as;
Boat Riding
Canoeing
Water sport
Volley ball
Beach soccer
Archery
Sun bathing etc.
In 2013, the Federal Government of Nigeria constructed and opened the Ibeno bridge as a move to attract more tourist and improve other economic activities in the region.
I believe you will plan to visit this amazing beach come this end of the year vacation when you visit nigeria. As a tourist, to navigate your way around Nigeria, you need this; https://timbu.com/nigeria .
10) Badagry Historic Town
Visiting Badagry was an amazing experience for me; I was able to learn the town's most beautiful culture and heritage.
The King's Palace – Oba Akran of Badagry.
Welcome Board at Badagry Heritage Museum.
Badagry Heritage Museum Building.
Badagry Heritage Museum Building.
Slave Chains.
Slave Ship Replica.
Slave's Drinking Pot
Depart Lagos on a historic day tour of Badagry, a coastal town that was one of West Africa's first slave ports. Visit the Badagry slave market site and the Point of No Return, where captured Africans left for the Americas to meet their fate. See an early missionaries cemetery and explore the Slave Trade Relics Museum, telling the slave trade story through artifacts like ceramic bowls once exchanged for lives. Badagry is also home to the Baracoon, cells where slaves stayed shackled with neck chains and mouth locks for months. Day tour of historic Badagry from Lagos Learn about West Africa's slave history in one of its first slave ports Visit the Slave Trade Relics Museum and the ominous 'Point of No Return' Enjoy a culturally immersive experience that's both educational and informative Includes lunch The small-group size ensures personal attentionRead more about Historic Day Tour of Badagry Town from Lagos 2020 – https://www.viator.com/tours/Lagos/Historic-one-Day-Tour-of-Badagry/d24049-8412P10?mcid=56757
Information from Viator
Tour description
The ancient town of Badagry was founded around 1425 A.D. Badagry Town holds so much history of Nigeria, which includes the very first storey building in Nigeria while it also played an historic role during the slave trade era.
The origin of Badagry could be traced back to the period when people lived along the Coast of Gberefu and this area later gave birth to the town of Badagry. Badagry – the 2nd largest commercial town in Lagos State – is located in the western tip of Lagos city and about an hour drive from Lagos main land. The tour activities includes notable places of interest to be visited which includes; • Mobee family slave trade relics museum • Badagry heritage museum • Badagry slave port • The point of no return • Badagry slave market • Seriki Abass brazillian baracoon • Agia tree monument • Early missionaries cemetery • Visit to the first storey building in Nigeria • Breakfast/lunch inclusive • Fully airconditioned transport shuttle.
What's included
Breakfast
Lunch
Tour escort/host
Hotel pickup and drop-off
Air-conditioned vehicle
Entry/Admission – Black Heritage Museum
What's not included
Alcoholic drinks (available to purchase)
Souvenir photos (available to purchase)
Highlights
Day trip (destination A to B)
Small-group tour
Private tour is operated with just your party and a guide/driver
Lunch included
Step back in time on a history tour
Pickup from a centrally located meeting p
.
11. Erin-Ijesha
The tiny town of Erin-Ijesha is really only known for one thing and one thing only: it's eponymous waterfall that crashes through the southern Nigerian jungles, spans two individual states, and counts as many as seven tiers in total! The beautiful water feature draws oodles of people to this tiny speck on the map a little way from the historic city of Ilesa.
The journey's worth it though.
You'll get to climb through the verdant woods and bathe in the cataracts as they crash over the cliffs.
You'll learn about the forest spirits, and even discover the nearby hot springs at Ikogosi – a little to the east, and a great place for soothing those tired hiking muscles.