It is of no doubt that human is in a "rush hour" kind of generation of the 21th century where a high demand and expectation is placed on us in accomplishing our goals. From family settings, work environment and societal expectations, human is encumbered on all sides so much so that we work our ass out round the clock to meet our needs. This creates a disconnection between us and the rest of the world  such that we miss out on the important things of life. In the midst of the hustle and bustle, do people ever take the time to unburden themselves from the hassles? the best way to do this might be to travel. Many attributes have been linked to the reasons why  most people travel  however, is it a great and interesting thing to travel with friends, so I will show you the "5 Awesome reasons why you should travel with friends".
Benefits of Traveling With Friends
There are numerous awesome benefits to be derived when you a
travel with your friends. Enumerated below are as follow
Traveling With Friends Can Boost Your Health
A saying goes thus that " A friend in need is a friend in deed". From time immemorial, the human whole construct is such that humans interact with one another on a daily basis . Because of this reason, human's biological system has over the time undergone gradual evolutional changes in a way that has strengthened his system to adapt to environmental conditions thereby inducing overall wellbeing. Creating an isolation of an individual means an impact on the health state of such individual. This concept is based on genetic studies which transcends an idea that can be easily grappled with by a lame man.
2) Traveling with Friends increases your Bonding and Strengthens Social Affinity
If you have not seen your long time friend, whom you've been with for some time, say childhood friend growing up, University friends after graduation, the odds are you begin to lose track of one another. Calling up such friends up, if you still have their contacts. Another way is looking them up on social media as technology has virtually bridged the gap amongst people all over the world. You can schedule a favorite place to travel to . This trip could involve you visiting recreational parks ( internal linking: 10 Great recreational parks you can visit around Nigeria }, game reserves, and also lounging in an hotel (Internal Linking: 10 Best Hotels In Nigeria). This occasion affords you people the opportunity to reminisce old memories, revive those memories and activities you used partake in. This occasion can also afford you the opportunity to reconcile on any long standing dispute you and such friends may have had unresolved. By strengthening your bond, you open  up a gateway of opportunities for the future times of need.These needs could be financial, political, recreational and even martial.
3) Traveling with Friends is an Adventure
wikipedia defines Adventure travel as a type of niche tourism, involving exploration or travel with a certain degree of risk (real or perceived), and which may require special skills and physical exertion. In  in traveling with your friends on an adventure tourism you seek out-of-the-ordinary or "roads less traveled" vacations and destination less visited.  By traveling with your friends on an adventure, there is a great reason for  you people as tourist to engage in  physical activity such as  cultural exchange,  and connection with nature.
Adventure tourists may have the motivation to achieve mental states characterized as rush or flow,[6] resulting from stepping outside their comfort zone. Partaing in breath taking activites such as This may include activities such as mountaineering, trekking, mountain biking, cycling, canoeing, scuba diving,  kayaking,  hiking, exploring, caving and rock climbing
There's something special about embarking on an adventure into the unknown and really experiencing the world. You could kind of see it as essential "soul food". 
Whether it's a trek into the mountains, a cycle along rural back roads, a mountain bike challenge over rugged mountains or a climbing expedition to a majestic peak, an active adventure can liberate the soul and benefit your physical, mental and emotional state.
The cultural exchanges that you gain from those friends and members of the communities you and your friends have travelled to on a short vacation can help you to learn new skills of language, food, music and other things as addition.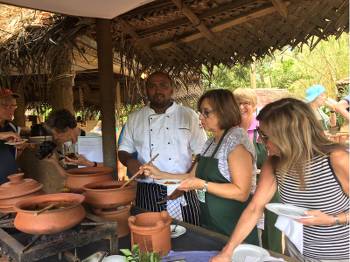 A hands-on cooking experience by friends on a travel visit
4) Traveling with Friends can improve your Cognitive Thinking and make you smarter
There is this saying that 2 good heads are better than one. Traveling with friends is another great opportunity to share ideas with your friends between you and your friends. If you all are in different fields of profession, occupation or have different views and philosophies, it helps one another to constructively debate on issues. That has a capacity of expanding your approach to reasoning, which may be needed in problems solving, business ideas and creativity for invention.
Immersing yourself in the outdoors can increase your higher order cognition in more ways than one. A study found that brain scans taken after exercise showed that the participants had greater and more focused activity in the prefrontal cortex than they did before.
What's more, active trips help increase activity in your hippocampus, the brain's main "storage unit". Typically, the hippocampus decreases as you get older, leading to memory loss, however physical outdoor activity can lead to a chemical reaction in the body that increases the hippocampus. A group of middle aged adults took a 40-minute walk three times a week and over a year, grew their hippocampi by two per cent.
To gain a sharper mind, have some adventures outdoors and get your hippocampus working! We recommend the Hike, Bike and Kayak Cambodia trip, which will create memories you definitely want to remember forever.
5) Traveling with Friends reduces stress
There's a reason why there's a smile on everyone's face after they've come back from an active adventure of traveling with their friends – because they're happier for it! All the stresses of life just melt away as you embark among some of the most stunning sceneries in the world.
 Most people across the world are usually stressed out  with a report revealing that stress levels have been rising around the country for the past five years. Fortunately, research has revealed that nature walks with friends can reduce stress, as well as boost levels of attention.
Nature experiences amongst friends, even of a short duration, can decrease the mode of thought that is associated with the onset, in some cases depression.'
So if you're feeling the strain of boredom, immerse yourself in traveling with friends through nature to reduce your stress levels. 
6) Traveling with Friends  makes exercise easier
If you're having trouble getting the motivation to get fit, adventure by traveling with your friends is also a way to put you ack on your fitness goals as you get your adrenalines pumped up from the extraordinary mix f emotions you derive from the experiences that put you on your toes  while among the pack of your friends. this is a form of exercise in disguise. However, remember to always be on your safety guards by obeying all safety precautions against avoidable accidents
7) Traveling with friends help you feel a sense of accomplishment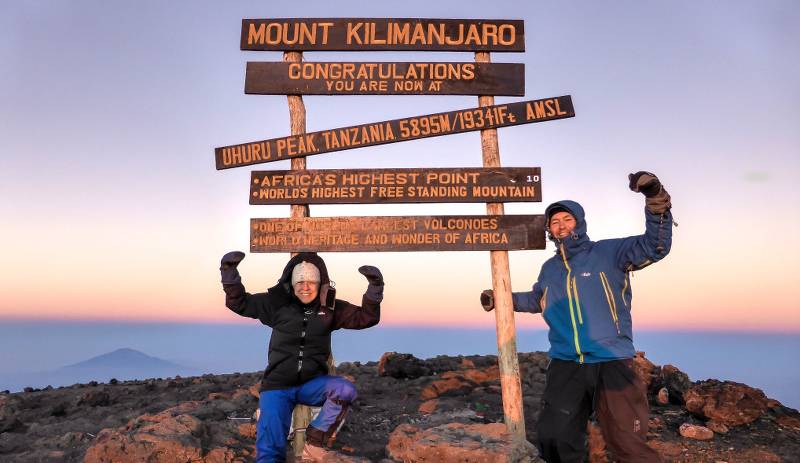 Regardless of age and size, taking on an adventure by traveling with your friends can create feelings associated with personal achievement. The more difficult the sojourn the greater the challenge, the more sense of achievement we feel when we accomplish those goals.
Whether you're trekking to Kilimanjaro, climbing Island Peak, cycling the Andes or adventure touring the Silk Road, using adventure travel as your personal goal can provide a euphoric feeling that stays with you long after you've returned home.
8) . Traveling with Friends can help you Forge new friendships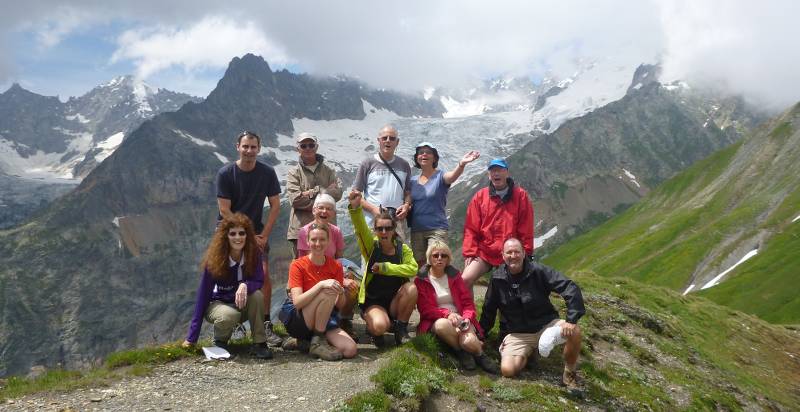 If there's one benefit to gain from traveling with friends, its an adventure that'll leave you with the warm and fuzzy's, this is it.  It is a multiplier effect when the friends you are traveling with are also coming with friends, who are also coming with friends. Such a moment is an exhilarating experience
Embarking on a challenge with other people can bring you closer together; sharing the trials and the triumphs expands your circle relationships that'll embed deep in your memories.
 be certain that you would stay long to relive those experiences in clear detail as you laugh over the highlights and mishaps and success , as you relish the moment in your consciousness. It is for for  you would long to  have more of such even as you mark the calendar and look forward to then next reunion.
9) Traveling with Friends increases your self-awareness
A bi-product of travel is raising your self-awareness and it's one of the most beneficial parts of taking on an adventurous trip overseas.
Adventure travel brings you closer to your "inner self", giving you the chance to examine and challenge yourself in ways you didn't think were possible.
Stepping into the unknown and taking a risk demands our increased attention and can bring an intense state of self awareness – one of the reasons that people, such as mountain climbers, engage in adventure activities.
These adventurers often return home with a more relaxed mind and an increase in self confidence – yet another reason to pack your bags and head for a trek in the Himalaya's Annapurna region for plenty of time for self reflection.
10) Traveling with Friends could increase your Lifespan Health wise
Imagine yourself breaking out of your normal routine and boredom of a triangular life-style of : Work- Place of Worship-Home, and going on a long vacation far away from life's complexities. Here, you partake in numerous soul refreshing activities such as sightseeing, beach bathing, playing favorite games. All these activities that bring laughter and joy to your heart and frees your mind from anxiety-prone-feelings and depression. According to  news statements released by The World Health Organization (WHO), Cadiovascular Diseaseas (CVDs) are the leading cause of death globally, as more people die annually from CVDs than any other cause. However, partaking in activities as mentioned above have a tremendous way of making cutting down the risk actors associated with CVDs.  You feel like a child again (rejuvenation). Making yourself feel like a child again? What you have done is that you have cut down your likelihood of dying early.
As you have learned these awesome benefits today, make it a lifestyle to call up your friends and schedule a date to unburden and reinvigorate your spirit by traveling with your  friends.